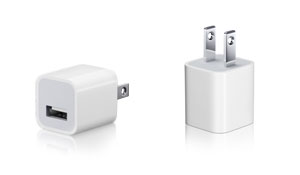 Apple has just recently recalled the "ultracompact" power adapters that were included with every iPhone 3G since its launch. Apparently, the prongs have a habit of breaking off in the outlets and causing obvious electrical hazards. Apple has posted a statement about what users should do. Full details inside.
Apple says:
"Users with ultracompact power adapters should immediately stop using them until they exchange them for a new, redesigned ultracompact adapter.
In the meantime, they should charge their iPhone 3G by connecting it to their computer with the USB cable that came with their iPhone or by using a standard-sized Apple USB Power Adapter (with fold up prongs) or with a third party adapter designed to work with the iPhone, such as a car charger"
Starting October 10th, you may begin to receive a replacement adapter one of two ways:
Order a replacement adapter via the web. These replacement adapters will ship within three weeks of your order, starting on Friday, October 10.
Exchange your adapter at an Apple Retail Store starting on October 10.Replacement adapters will have a green dot in the bottom corner to differentiate them easily.
You can read Apple's article about the Exchange Program here.Â
2 Responses to "Apple recalls iPhone 3G power adapters"
Marwan Says:
September 20th, 2008 at 6:23 pm

omg. good thing i have iphone 1g:) :mrgreen:

toNYc311 Says:
September 21st, 2008 at 5:53 am

hehe good thing I still use my old iphone 1g power adapter. :) :mrgreen: I never even bothered to use the new tiny one haha! :lol:
Leave a Reply