All of us remember the Safari Download Plugin from the 1.1.4 firmware. This plugin allowed you to download supported files directly to your iPhone or iPod Touch from the internet. These files could then be taken off, or manipulated in other ways. Well, the improved Safari Download Plugin 2.0 has appeared in Cydia today, along with a BossPrefs toggle.
This plugin can be very useful in some situations. On 1.1.4, there was an application called AVPlayer that allowed music or videos to be played directly from MobileFinder. So you could download music using the plugin, and then play it in MobileFinder using AVPlayer. The 2.0 firmware doesn't have anything like AVPlayer yet, but it's possible we could see something like it. Also, if a new beta application is developed while you're on the road, and developer only has it available for download via it's googlecode page, or other site, you could download the .zip using the plugin, unzip it using the unzip command in MobileTerminal, transfer it to the /Applications directory using the new MobileFinder, and set correct permissions using Terminal. There are many other uses, those are just some. Also, downloaded files are saved in /var/mobile/Library/Downloads. Here are some screenshots: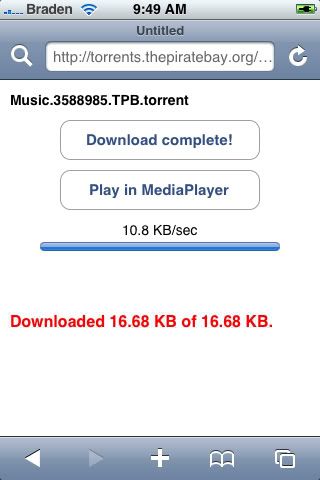 Also, there is a BossPrefs toggle available for download, although I see little use for it. Before, it was useful because the only options the plugin gave when it came across a downloadable file was to either download it, or change the filename, then download it. It gave no option to play the media file instead of downloading it, and that's where the BossPrefs toggle came in handy. Now, it gives you an option of downloading it or playing it, so I don't really see why it's needed. But it's still good to have.
\\ tags: safari, safari download plugin

24 Responses to "Cydia: Safari Download Plugin 2.0"
Leave a Reply