MobileFinder is an amazing and cheap application available through the App Store. It allows you to wirelessly add files to your phone on the Media partition, like a jump drive. But, with a jailbroken iPhone and a little tweaking, this application becomes even better. Read more for information.
MobileFinder features a built in text editor, the ability to copy and paste files, the ability to zip files, and much much more. It also has a great user interface and is very easy to use. It is also extremely easy to connect to your phone wirelessly and transfer files over.Â
To connect to your phone, make sure your computer and your phone are connected to the same wireless network. Then, inside MobileFinder, tap the arrows button in the bottom right and switch sharing on. Then simply select your OS from the selections at the bottom, and follow the directions. Here are some screenshots, and afterwards, a way to make this application even better on a jailbroken iPhone.
MobileFinder is $1.99.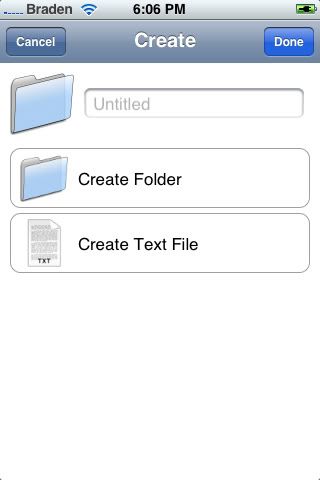 Now, here I'll explain how to configure MobileFinder to explore your whole filesystem, like the old MobileFinder for 1.1.4 used to do. I found this in a forum somewhere. To do this, you will have to have a terminal connection to your iPhone or use MobileTerminal available in Cydia. If you are using MobileTerminal, be sure to log in as root by typing login, typing root, and then typing in alpine (or your own password you created). Â Ok, go to /var/mobile/Applications/ and keep clicking in the folders until you find which folder contains MobileFinder.app. Copy down that file path. Now, in your terminal, enter:
ln -s /* /private/var/mobile/Applications/C93B81D8-6055-4FDA-9B06-37E6DB910534/Documents
Your command will be different than mine, because the directories are different for every phone. Anyways, this will create a symbolic link from that directory to your / directory, which will allow you to explore your filesystem. There are a few drawbacks though. You will not be able to navigate through symlinks, so instead of going to /var, you'll have to go to /private/var/. But even then, this is really handy! If you have any problems, leave a comment or email me at braden@iphonefreakz.com.
\\ tags: App Store, filesytem, mobilefinder

29 Responses to "App Store: MobileFinder"
Leave a Reply