Well, the new MxTube, now compatible with the 2.0 firmware, has been released and works better than ever. There are many new features, such as streaming instead of downloading and background downloads. Click the Read More link for a walkthrough on all of the features and some screenshots.
First, download MxTube via Cydia. It's hosted through the BigBoss source, just for reference. Now that we have it downloaded and installed, let's open it up.
When you first open the application, you will be greeted by a License Agreement. It's simply a pop up with two button, Accept and Decline. Read through the agreement and press Accept.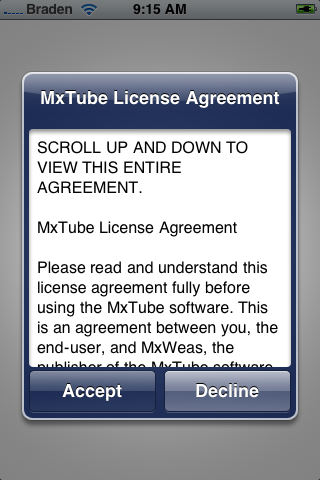 After you accept the License Agreement, you will see the main screen. This screen tells the version, known bugs, features, and credits.Â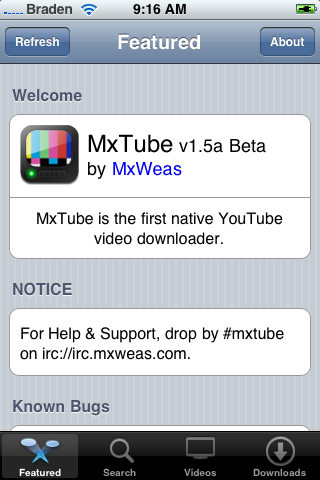 You can then begin to search YouTube. Currently, you can only search YouTube Mobile, which is where the native YouTube app on the iPhone gets its search results. This is only minor setback, and will be implemented in later versions. Tap the text box to begin typing, and then press Search on the bottom right. Your search results will appear.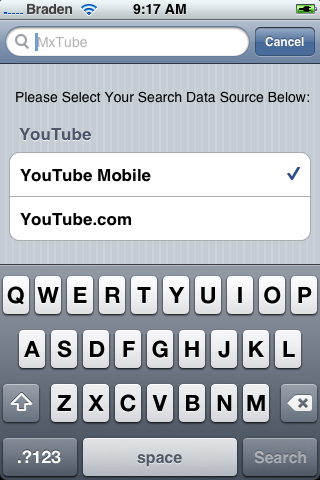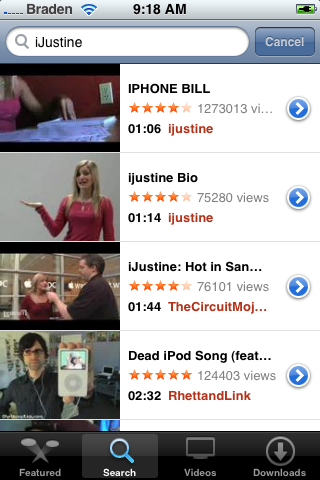 When you've found the video you would like to download/watch, tap it, and two options will appear. You can stream it or download it. You may also tap the arrow on the right to get more options, such as the quality of the download or streaming video. You can also see the video description, rating, and views.
Â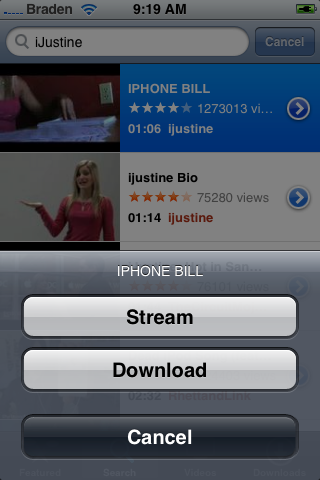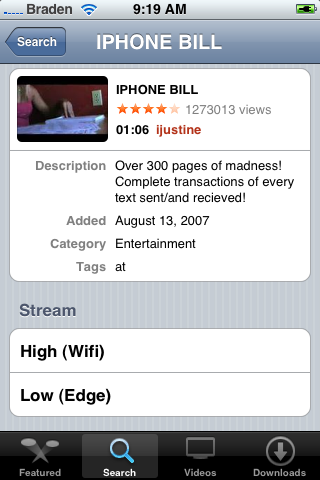 If you tap stream, the video will begin to play, streaming over the internet. If you tap download, the video will start to download, and you will be able to see it's progress under the Downloads tab.
Once the download has finished, it will display Finished and be copied to the Videos tab. Here, you can playback the video by tapping on the video you would like to play.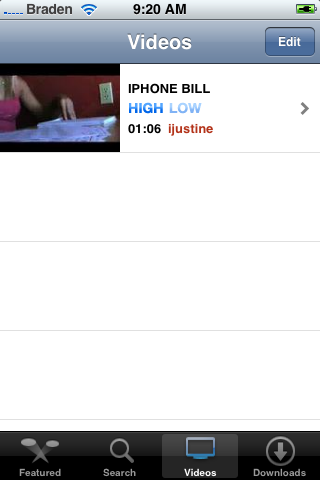 I have tried this application, and it's worked flawlessly for me so far. I'm also sure that many more great features will be added later when they are fully tested. If an update appears in Cydia, we'll give you all the info, so be checking back!
4 Responses to "Cydia: MxTube 1.5 Beta"
Leave a Reply